Kim Kardashian Sued Over Allegedly Stealing 'Vibes' Logo for New Fragrance
Kim Kardashian West is being sued. Again. This time Kim's company KKW Beauty is being accused of stealing the logo for one of her new fragrances, according to People. Vibes Media is alleging that Kim and KKW Beauty ripped off their company's logo, which they trademarked in 2012. In the lawsuit. Vibes Media alleges that KKW Beauty "has been marketing, promoting, and is now selling a Vibes perfume. The Vibes perfume comes in a bottle that is a close facsimile of the Registered Vibes Logo."
For comparison, here is the KKW Beauty Vibes fragrance alongside the Vibes Media logo: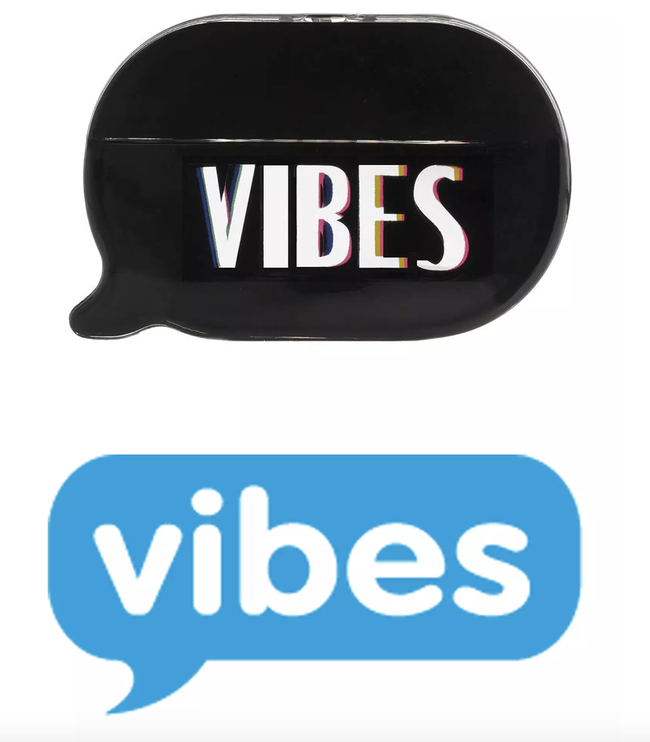 Vibes Media is reported to be seeking damages, an injunction to prevent the mogul from selling any more products, as well as looking to obtain the unsold perfumes so they can be destroyed, per TMZ. The lawsuit doesn't appear to be slowing Kim down, though, because she's continued to promote her three new KIMOJI fragrances on social media. In addition to the Vibes fragrance, Kim is also selling Peach and Cherry perfumes.
The three new fragrances are inspired by her very own emojis, which are - of course - called KIMOJI. Kim launched the KIMOJI app back in 2015, though, so the Vibes Media logo trademark still predates the vibes emoji Kim's new fragrance is based on.
Vibes Media isn't the first company to come for one of Kim's companies, either. Kim was hit with a $100 million lawsuit back in August over her company Kimisaprincess Inc.'s endorsement of the LuMee phone case. A man named Hooshmand Harooni claims LuMee stole his idea and that Kim's endorsement of the product caused him to lose out on profits.
Kim wasn't sweating that lawsuit at the time, though, because a representative for the Kardashians told TMZ, "The patent lawsuit filed by Snaplight has no merit and is just another attempted shakedown. Kim has done absolutely nothing wrong." It wouldn't be surprising if Kim and KWW Beauty had a similar outlook on the lawsuit they're currently facing.