The Best Ariana Grande "No Tears Left To Cry" Fan Reactions (VIDEO)
At the stroke of midnight on April 20th, 2018, Ariana Grande shared her brand new single "No Tears Left To Cry," and its accompanying music video. This song is important because it's the very first taste of Ari's upcoming fourth studio album, and also her first new music since the horrible attack at her "Dangerous Woman Tour" stop in Manchester last May, which she paid tribute to at the very end of the music video.
"No Tears Left To Cry" was produced by Max Martin and Swedish songwriter ILYA (who worked on much of Grande's Dangerous Woman album), and was co-written by Ari, Max, ILYA, and Savan Kotecha. Throughout the upbeat song, Ariana sings uplifting lyrics, especially in the chorus. "Right now I'm in a state of mind/ I wanna be in like all the time/ Ain't got no tears left to cry/ So I'm pickin' it up, pickin' it up/I'm lovin', I'm livin', I'm pickin' it up," she sings.
In an Instagram post, Ariana wrote a heartfelt note to all of their fans, thanking them for their support. She wrote, "Thank you from the bottom of my heart. i have no idea where to start or what to say. i'm unimaginably grateful for your love, warmth and kindness. i hope this song brings you light and comfort but also makes you wanna dance and live ya best life! i am so excited for this new chapter with you all. thank you for this beautiful start."
With the excitement of new Ariana music, the pop star's loyal Arianators naturally expressed all of their emotions about "No Tears Left To Cry," and the music video, on social media. Many had tears left to cry (as they shed them), many let out screams of joy ... in short, they love it. See some of the best reactions below, they are totally relatable. Same Arianators, so same.
Did you know Ari invented gravity?
Isaac Newton who?!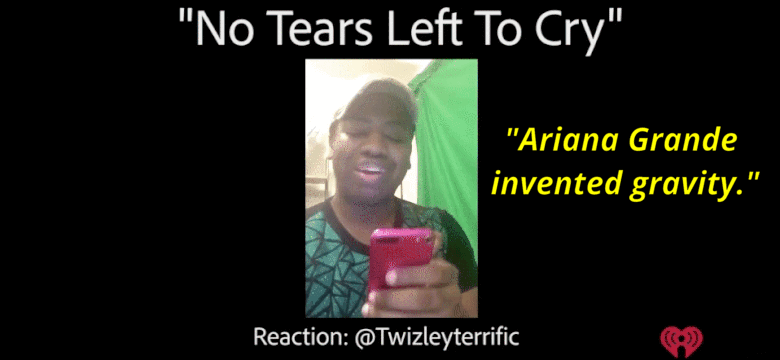 She had some tears left to cry...
So did she.
ARI WE ARE CRYING BUCKETS OVER HERE, OK?
And when the song is so good, your muscles cease to function and you drop your phone:
It happens. It's a thing!
Thank you, Ariana Grande for this blessed piece of joyful music. We are ready for AG4.